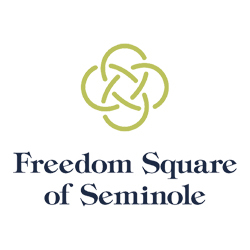 Licensed Nurse - LPN / RN
Sorry, this job has expired.
Seminole, FL
Immediate need for LPN/RN

SIGN-ON BONUSES for full-time shifts:
LPN any shift: $2,500
RN any shift: $3,500

JOIN OUR FAMILY TODAY!

Freedom Square is a Continued Care Retirement Community, making aging in place simple. Offering 4 levels of care, residents seamlessly transition from independent living to assisted living, memory care and skilled nursing care as residents' health needs change. In addition to the quaint town square setting, you'll find our residents friendly and our staff welcoming and supportive.

Freedom Square offers competitive wages, a rewarding experience, flexible schedules, and an excellent benefit package. Our compensation package is designed to benefit Freedom Square employees personally and professionally.

Health and Wellness:
• Medical, Dental and Vision
• Free Flu Shots

Educations/Professional & Development
• Employee Assistance Program (EAP)
• Resident Scholarship
• Awards and Recognition Programs
• Service Awards

Financial
• Matching 401k
• Group Life and Long-term
• Disability Insurance
• Supplemental Life Insurance
• Health Savings Account with an Employer Match

Additional Benefits
• Unlimited Referral Bonuses
• Shift Differentials
• Paid Time Off (PTO)
• Holiday Pay
• Bereavement Pay
• Provide Uniform
• Online Scheduling

Job Description:
A spectrum of nursing that is a step up beyond the hospital setting. Freedom Square, is hiring full-time and part-time Licensed Nurses – RNs and LPNs. Unlike clinics and hospitals, you will care for the same individuals each day becoming part of their extended community family.

Responsibilities:
The accurate and timely administration of medications, treatments, documentation and emergency calls as indicated. Various levels of acuity with duties that include but are not limited to:
• Admissions, Discharges, IV's, wound vacs, and administering medication
• Implement and coordinate the delivery of care in collaboration with physicians and resource health care personnel.
• Make rounds on a timely basis to ensure continuity of care.
• Document all pertinent information regarding care and observation of residents' overall condition and behavior.
• Utilize the nursing process (assessment, planning, implementation and evaluation) in ensuring overall resident care.

Experience Requirements:
• 6 months nursing experience
• Geriatric involvement – a plus

Qualifications:
• License is required by the state

Our seniors are looking for trusted companions, as a nurse, you are that person, bringing a smile to their face each time they see you. Experience is EVERYTHING!

We are an Equal Opportunity Employer, providing a foundation for success and foster a sense of trust where all employees can rely on one another to accomplish any task at hand.

19278