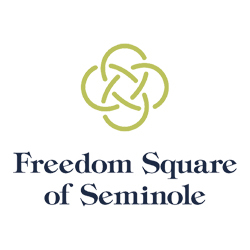 LICENSED NURSE - LPN / RN
Sorry, this job has expired.
Seminole, FL
Join our family today!

We're offering Sign-On Bonuses!

Freedom Square of Seminole is a Continued Care Senior Retirement Community, that includes Independent Living and four levels of care on one campus: Long Term Care, Short Term Rehabilitation, Assisted Living, and Memory Care. We put our resources and programs to work so our senior residents enjoy their lifestyle to the fullest.

We offer competitive wages, benefits, training and the opportunity for growth.

Full-time and Part-time LPN / RN will enjoy:
• Competitive Pay
• Medical, Dental and Vision
• 401K
• Training
• Paid Time Off
• Employee Assistance Program (EAP)
• Awards and Recognition Programs
• Referral Program
* Part Time benefit eligibility (must work 20 -29.99 hours per week)

**In order to safeguard our patients, staff and future employees, Freedom Square has put certain measures in place to protect our patience, staff and future employees.

Job description:
Our Licensed Nurses LPN and RN at Freedom Square of Seminole responsibilities include but not limited to:
• Unlike clinics and hospitals, you will care for the same individuals each day becoming part of their extended community family
• Perform skilled nursing at multiple levels of care in Assisted Living, Short-Term Rehab, Long-Term Care, and Memory Care
• Implement and coordinate the delivery of care in collaboration with physicians and resource health care personnel
• Make rounds on a timely basis to ensure continuity of care
• Document all pertinent information regarding care and observation of residents' overall condition and behavior
• Utilize the nursing process (assessment, planning, implementation and evaluation) in ensuring overall resident care
• Admissions, discharges, IV's, wound vacs, and administering medications and proper documentation. 8 hour shifts

We help senior residents create more vibrant lifestyles for themselves by promoting a culture of health, wellness, and engagement. We go the extra mile to support the overall well-being of our residents. Our diverse communities offer a range of lifestyle option. Freedom Square of Seminole fully embraces and focuses on a culture of hospitality, where the Experience IS EVERYTHING!

Grow and enhance your career! A spectrum of nursing that is beyond a hospital setting. We welcome you to apply & join our family today!

• One year of experience for first shift
• PRN POSITIONS: One-year experience in this environment
• License is required

We are an Equal Opportunity Employer.

17267